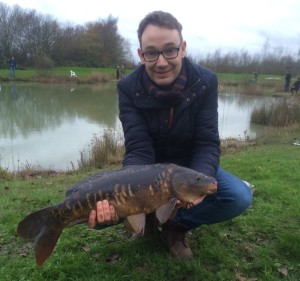 On Wednesday 16th December Mixbrow Construction held their annual Client's Sporting Event.  After coffee & bacon rolls, the morning was spent locked in fierce combat; Clay Pigeon Shooting.  Following a closely contested battle, requiring steely nerves and a rather fetching choice of eyewear, Stuart's team emerged the victors.
Scores were compared and excuses were made over a relaxed festive lunch.  Restored, we reconvened at the lake to while away the afternoon, engaged in less combative pursuits.  Or so we thought.  The announcement of prizes available for 'largest fish' & 'most fish' landed reignited the hunger for victory.  Competition did not cease until it was no longer possible to see the floats bobbing in the water.  Had head torches been available, they would surely have been deployed.  A nine pound monster, wrestled to the bank by Paul Boswell was, by some margin, the largest of the day, while Andy Garnham's focus and commitment was rewarded when he declared on a century to secure the prize.
An evening meal and drinks topped off a very enjoyable day, spent in great company.