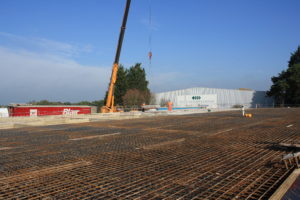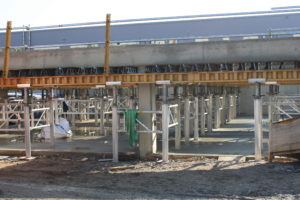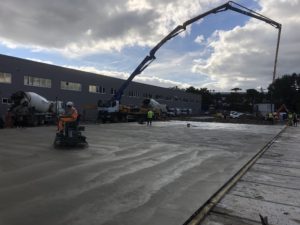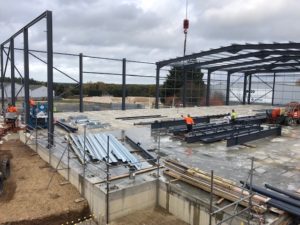 Work is progressing rapidly on the construction of a new storage and distribution building for TROX UK in Thetford.  184 pre-cast concrete floor slabs, each weighing up to 2.5 tonnes, have been craned into position, to form part of the 1860 square metre warehouse floor and ceiling of the 44 bay under-croft car park.  300 cubic metres of concrete have also been poured, to create the remaining warehouse floor section.
The steel framed warehouse structure, fabricated and erected by Nimmo Industrial Buildings of Kings Lynn, is nearing completion, with roofing and cladding works set to commence.
Working in partnership with Rees Pryer Architects of Bury St Edmunds, Superstructures Structural Engineers of Ipswich and Attleborough based BHA Consulting Civil Engineers, Mixbrow Construction is delivering a facility that maximises utilisation of the limited site space.
The project is on target for completion early 2019