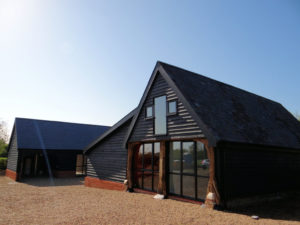 Work was recently completed at New Farm, Shelland.
This project combines the old with the new and the traditional with the modern. The result is a beautiful family home that provides the comfort, performance and convenience expected of contemporary houses, while remaining perfectly in keeping with its countryside setting.
A former oak-framed Granary was extensively restored, both structurally and aesthetically, using traditional techniques and sustainable materials, such as oak carpentry, wood-fibre insulation, lime floor screeds, lime plastering and breathable, mineral based paints. Reclaimed bricks and timbers, set aside from a demolished, redundant farm building were incorporated into the renovation.
A glazed link takes you from the rustic charm of the main house to the precise lines and state of the art technology of the annexe, which incorporates an extensive en-suite bedroom and cinema room.
A ground-source heat pump provides the home with heating and hot water, as part of smart phone controlled, intelligent Mechanical & Electrical Installation.
Client Testimonial:
"Thank you for building us a fabulous new home and for all the support and advice throughout the process. You set very clear expectations of what you expected from us as the customer and what we could expect from you as main contractor. Any issues (and they were very few for a project this size) were handled swiftly and professionally. The care and quality shown by all workers was evident and Mick had excellent control of the site at all times. Mick's attention to detail was exactly what we needed and he treated the project like it was his own. Overall, I would and in fact already have, recommend Mixbrow for similar projects." Martin Jewers, New Farm, Shelland.